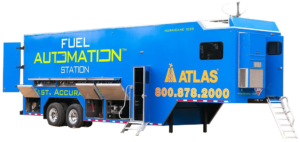 FAS offers several service models with the customer in mind.  From full oversight of your fueling operations to FAS Unit rental deployments, we work with you on a customized solution that matches the unique needs of your business.  Our team has successfully deployed FAS Units to hundreds of jobsites across the globe with the highest level of safety and standard operating procedures in the industry.
Equipment, Personnel, Diesel Fuel and Natural Gas
FAS operator on-site managing operations
Remote Command Center oversight
Bulk diesel fuel supply for FAS unit and ancillary equipment
Duel Fuel Solution available (diesel and natural gas)
Equipment and Personnel
FAS operator on-site managing operations
Remote Command Center oversight
Rental
Deployment of FAS unit to your location
Customized payment solutions available
"
The Automated Fluid Station has provided us with a more reliable fueling solution as well as a safer environment for workers on site. Noble was most excited to utilize the hot-fueling solution because it moved fuel personnel out of the red zone surrounding the frac pumps and moved them into a safe location away from frac operations. We've met with multiple vendors, but only FAS has been able to provide the quantity or lengths of hoses, quality of support and the reporting accuracy that Noble requires. All of these benefits are offered at competitive pricing.
Noble Energy

SAFE.
RELIABLE.
HIGH VALUE.
Want the insight to make better decisions? Let our experts walk you through a fueling solution tailored to your specific business needs.
Let's Connect